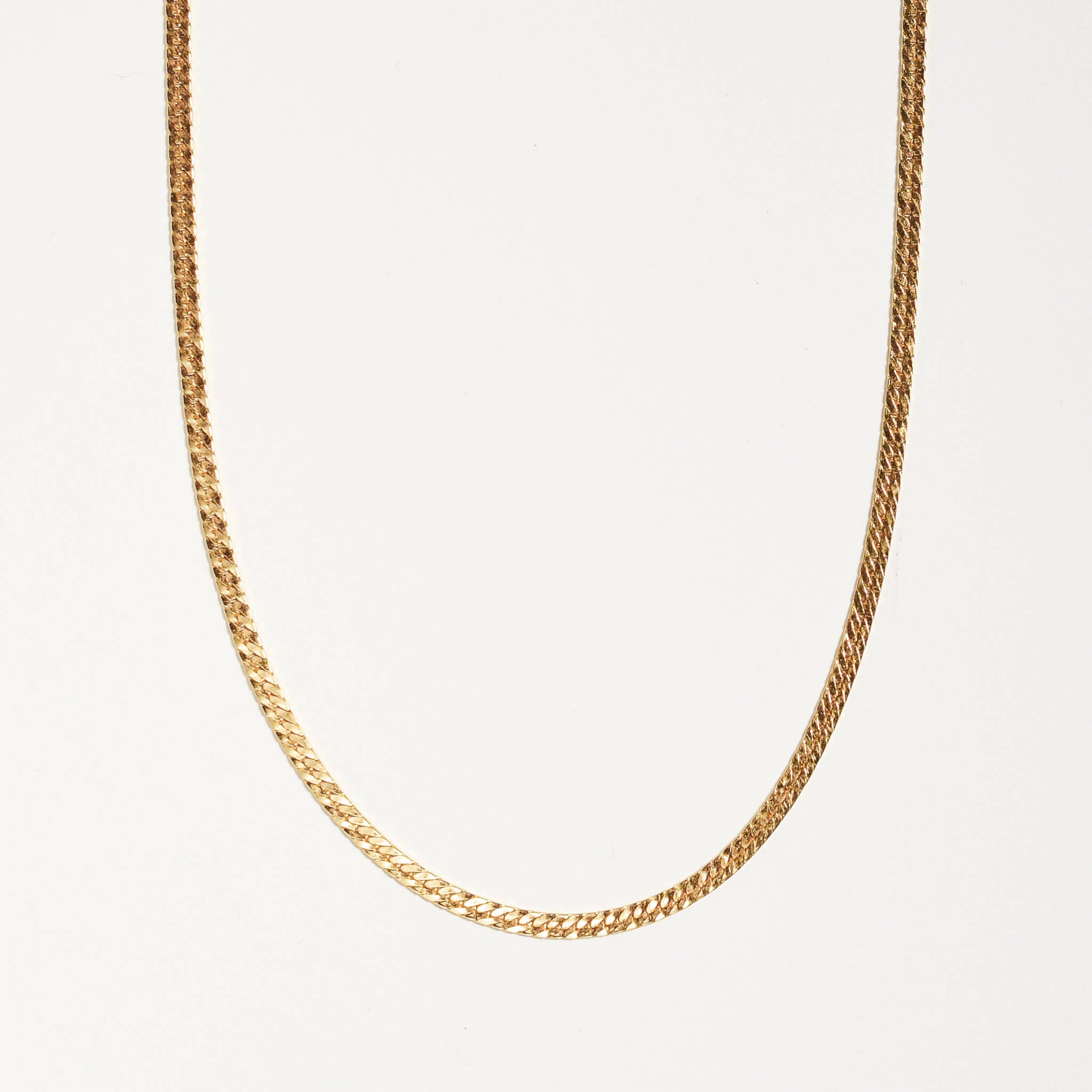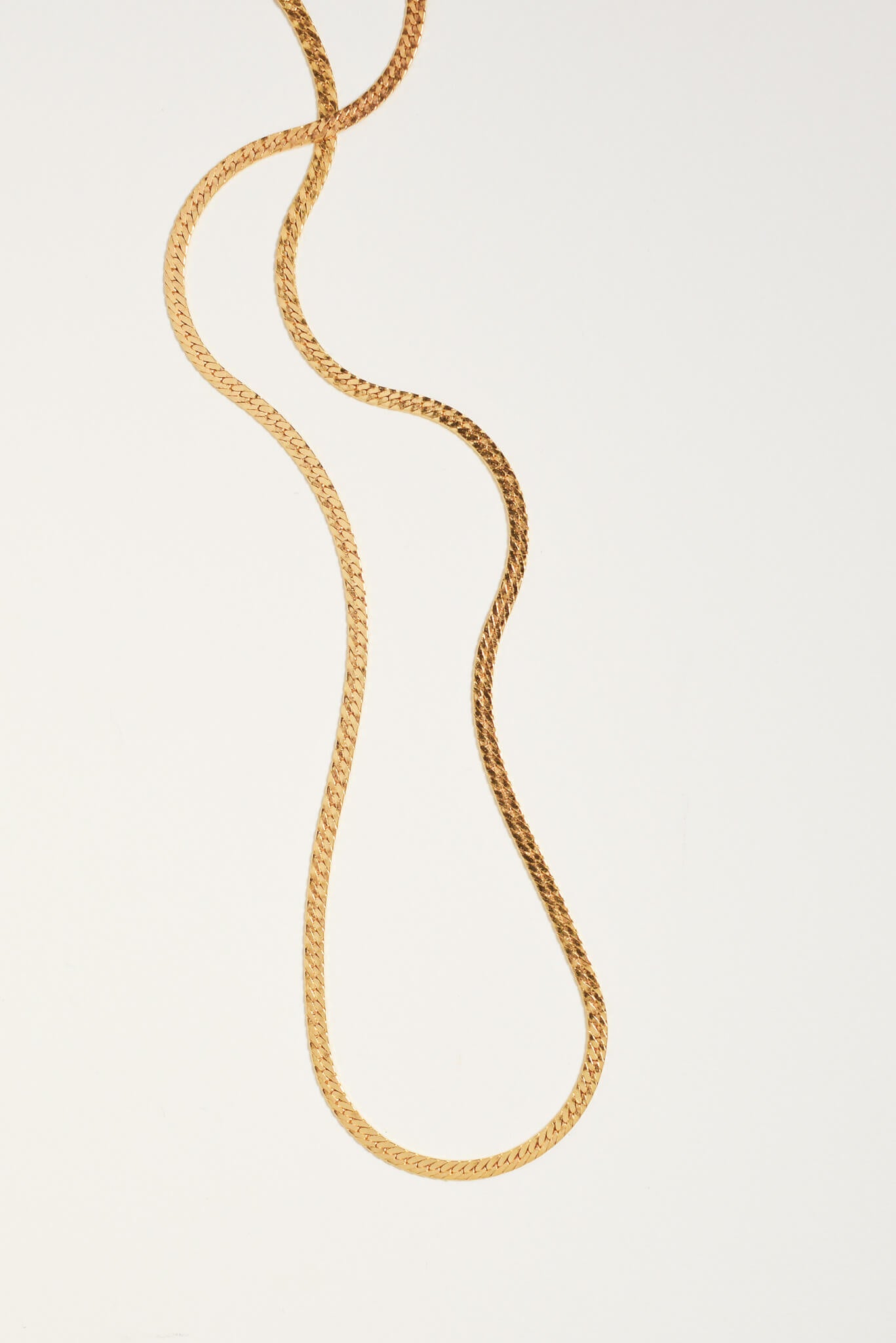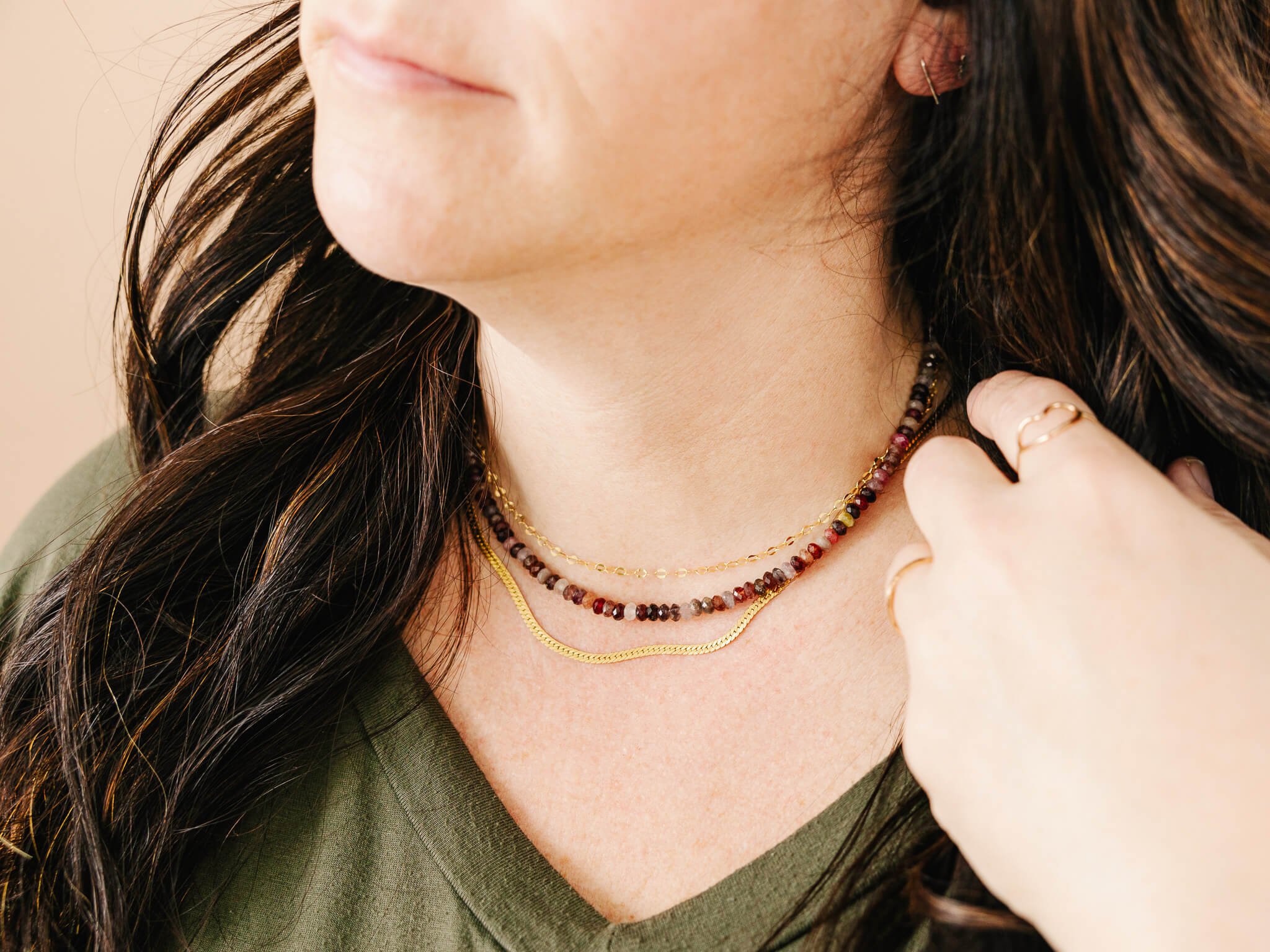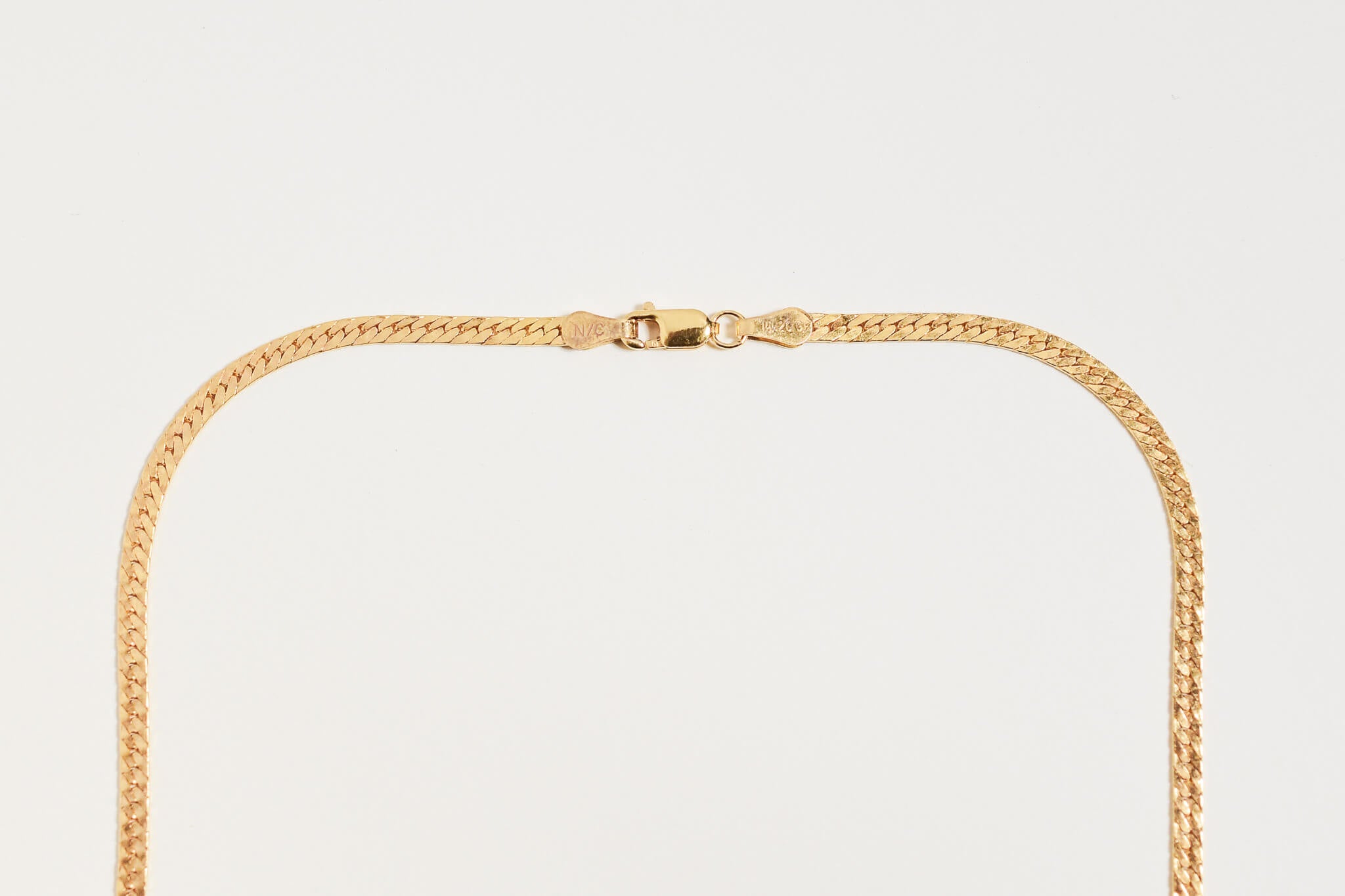 Golden Hour Herringbone Chain
Handcrafted within 4 - 7 business days

Handmade in California

Waterproof + Hypoallergenic

Eco Friendly Packaging
Details
Take your necklace game to a whole new level with our stunning 14k gold filled Herringbone chain that looks fantastic solo and even better layered with your other favorites. It's a true jewelry staple piece. 
2.4mm slinky and so smooth gold filled Herringbone chain
Length: Select from 16" or an adjustable 16 -18" length
Materials
We only use the highest quality of metals in our handcrafted jewelry so that it can stand up to life and works for everyday wear.

Sterling Silver
A versatile and sophisticated metal with that classic silver look. It is a durable, lightweight, long lasting alloy that is perfect for everyday wear. We use .925 certified sterling silver.
14k Gold Fill
A thick layer of solid 14k gold that is heat and pressure bonded to a center core of high quality jeweler's brass. With proper care, 14k gold fill can last just as long as solid 14k gold. Gold-filled pieces can still tarnish, but it takes special circumstances for that to happen. Pure gold doesn't tarnish, so the thick layer of 14k gold on gold-filled pieces prevents tarnishing.
14k Rose Gold Fill
A beautiful pinkish orange metal gets its coloration from the combination of gold and copper used in the alloy. Like 1 gold fill, 14kt rose gold fill is incredibly strong, long-lasting, versatile alloy that makes it perfect for everyday wear jewelry.
14k Solid Gold
A low maintenance, fine jewelry favorite that will last forever. It's pure gold mixed with other alloys to make it more durable & give it a beautiful hue.
Sizing
Visit our detailed size guide HERE
Care Instructions
With proper care, your jewelry will look like new for years to come! Here are some helpful tips and tricks to keep your pieces looking beautiful.

Storage: Store your jewelry (especially Sterling Silver) in an air-tight container when not being worn. Oxygen, moisture and other chemicals are what will tarnish or dull metals.

If you're not going to be wearing a piece for a while, don't leave it sitting out. A small ziploc bag works great!

Tangles: To help prevent tangles, we recommend closing all clasps before storing.

Chemicals: Although our jewelry is swim, sweat and shower-proof we do recommend avoiding prolonged exposure in chlorine, pools, hot tubs and spas.

Cleaning and polishing: If your jewelry needs polishing or begins to dull or tarnish, don't worry – it can get back to it's beautiful, shiny self. We recommend these handy dry jewelry wipes, but any jewelry cleaner or a warm water + mild soap bath will work.
Visit our extensive material + care guide HERE
Easy Returns
We want to make sure you love your jewelry. That's why we offer returns and exchanges within 30 days of your item's delivery. Our simple returns portal makes it easy to go through the process and end up with the outcome you want. 
Click here to start a return.
For exchanges or repair requests please email our Care Team on our contact page.
Golden Hour Herringbone Chain
Shipping + Returns
Fast shipping
We pride ourselves on getting you your Loveable order as fast as we can. Please allow 4 - 8 business days for your item to be carefully handcrafted and shipped. Non-personalized items will ship faster generally in 3-5 days.
Eco Alliance
Being intentional with our craftsmanship is always our priority. From using recycled metals whenever possible, to joining the Eco Alliance with our sustainable packaging products that are recycled and/or reusable, we care about our how our business affects the planet. 
Easy Returns
We will gladly accept any like-new product for return or exchange for any reason as long as it is shipped back within 30 days of receiving it and generating a return label is oh so easy.
Please note: Customized pieces are not eligible for exchangers or returns.
FAQ
What is Gold Fill?
A thick layer of solid 14kt gold that is heat and pressure bonded to a center core of high quality jeweler's brass. With proper care, 14kt gold fill will last just as long as solid 14kt gold. Gold-filled pieces can still tarnish, but it takes special circumstances for that to happen. Pure gold doesn't tarnish, so the thick layer of 14kt gold on gold-filled pieces prevents tarnishing.
Giving a Gift?
Select the "is this a gift" check box on the product page and we can include a handwritten gift note for you. It also alerts us to package your pieces individually as we typically package pieces together to reduce waste.
All of our jewelry pieces are beautifully wrapped in our branded jewelry slide box and/or microfiber pouch with "Love Note" card + other pretty packing materials.
About Hand-Stamping
We use hand-stamping to personalize our pieces (not engraving). Each character is created by striking a metal stamp, by-hand, one character at a time. Therefore, letters & numbers will not always be perfectly straight or perfectly lined up. This is a handmade technique and gives each piece its own character.
About us
Our Studio
We create handcrafted jewelry with heart. High quality designs built for your everyday journey to help you feel inspired, confident, and loved. Our designs are crafted with care in our Southern California studio.
Gift-Ready
From the creation of each handmade piece, to the thoughtful packaging, plus our custom "Love note," offering special meaning and a deeper connection to each item, we intend for you to feel special with each and every Loveable order.
Giving Back
To further ensure our commitment to spread positivity and give back, Loveable donates 10% of proceeds from specific collections to purposeful non-profits and charities. Learn more about our giving back program.
Total 5 star reviews: 1
Total 4 star reviews: 0
Total 3 star reviews: 0
Total 2 star reviews: 0
Total 1 star reviews: 0
100%
would recommend this product
Marta

Love it!so versatile

Love this piece. You will wear it all the time! Beautifully made, super versatile

L

Loveable

2 years ago

We are so happy to hear that Marta! Thanks for sharing
Reviews Loaded
Reviews Added